NEW YORK—They've been referred to as virgin drinks and mocktails, but at The Bonnie bar, in Astoria, Queens, they're referred to as zero-proof cocktails.
Mixologist Mike Di Tota didn't like the connotation behind "mocktails," as "the drink is making an attempt to be something that it's not," he stated. So he's using his mixology (and horticultural!) coaching to create non-alcoholic drinks which might be simply as nicely thought-out because the cocktails on his menu.
"When my spouse stopped consuming alcohol, I turned conscious of what a huge sector of the inhabitants doesn't drink, including many big-name bartenders," he stated. "And naturally, it goes together with everyone getting healthier: fitness center membership goes up in January; everyone takes advantage of the new yr to renew. I know many individuals who take a couple of months off of consuming at first of the yr."
Under, Di Tota talks about what makes a fantastic zero-proof cocktail and how his love for crops has inspired him, and gives a recipe for the spectacular, non-boozy Baker's Dozen.
The Epoch Occasions: What makes a terrific zero-proof cocktail? Are they easier or more durable to create than alcoholic cocktails?
Mike Di Tota: I feel it's necessary, presentation-wise, that when the server or the bartender places down four drinks—three cocktails and one mocktail—you can't tell the distinction between them. We've got pregnant ladies who aren't displaying but who ask, "Can you make me one thing that looks like one of many cocktails that you simply serve? I'm not telling the individuals at my table that I'm pregnant but, so I don't need them to ask why I'm not consuming." Constructing the drink in a method that it seems to be like it's something that came off your menu—a nice garnish, crushed ice, a gorgeous glass—those details go a great distance in making somebody who's not consuming alcohol really feel like they're part of the group too.
Making an incredible mocktail requires all the care that goes into making a terrific cocktail: are you catering to your visitor's needs and tastes? Are you making the drink tremendous juicy, or dry, or filled with soda? It's about figuring out your viewers and asking the correct questions, and figuring out what you're making for the person who you're making it for.
I feel they're more durable to make than alcoholic cocktails. General, making any person glad without alcohol is quite a bit more durable than making someone proud of alcohol as a result of they're not getting the satisfaction of that buzz. You need to make it special just for what it is. You're not getting anything off of it besides its unique taste. You're not saying, "Nicely, this can be a not so great, semi-decent Previous Common, however no less than I'm still going to get a buzz off of it."
The Epoch Occasions: You attended courses at the New York Botanical Backyard. What did you research there, and what fascinating discoveries did you make? How did that affect what you're placing in your drinks?
Mr. Di Tota: In my 20s, I took a job at a small plant nursery to combat restaurant burnout, and what began as a easy retail gig turned an obsession: I went from growing a number of primary houseplants at house to nurturing a set of over 200 orchids in my tiny studio condominium. I turned infatuated with the plant world and enrolled in the New York Botanical Backyard Faculty of Professional Horticulture. At the similar time, I landed my first bartending job at The Bonnie's sister bar, the neighborhood gastropub Sweet Afton in Astoria.
By night time, I was learning about craft gins and small batch whiskies; by day, I used to be learning the garden's 250 acres and turning into an skilled on the 1,000 crops I'd have to know before commencement. I studied botany, tree identification, plant copy, panorama design, greenhouse administration, on and on. However whereas my classmates have been drawing leaf shapes and flower buildings, I used to be rubbing pine needles between my fingers to launch their scent and daydreaming about creating Douglas fir cordials. I was memorizing timber' Latin names so I might research how to rework their bark into amaros. In my backyard, I used to be growing herbs and flowers like scented geraniums, lemon balm, and agastache, turning into intimate with how they grew, which elements of the plant gave off aroma, and one of the best ways to extract their flavor in edible type.
I found that there are so many straightforward, accessible methods to discover botanicals with components you'll be able to develop your self—syrups, infusions, and garnishes. The actual lightbulb second for me was once I realized that each liquor comes from a plant, indirectly: roots, bark, stems, seeds, flowers, fruits, and vegetables. The plant kingdom is an countless source of inspiration to me.
The Epoch Occasions: Please tell me concerning the Baker's Dozen, there's such an extended listing of crops and spices—and it's lovely.
Mr. Di Tota: The Baker's Dozen is citrusy, juicy, and bitter, with flavors that maintain going and going. We begin by making a gastrique with fig and blackberry jams, cinnamon, white pepper, and white balsamic vinegar, which opens up your palate with a deep, funky layer of taste. Haber's Tonic syrup provides a mess of spice notes: it's a tremendous artisanal syrup handmade right here in Astoria with two kinds of cinchona bark, Szechuan peppercorns, star anise, and lots of different spices. A bit lime juice lightens it up, and seltzer makes it effervescent. We garnish with an fragrant dried Lebanese aphrodisiac tea from Kalustyan's.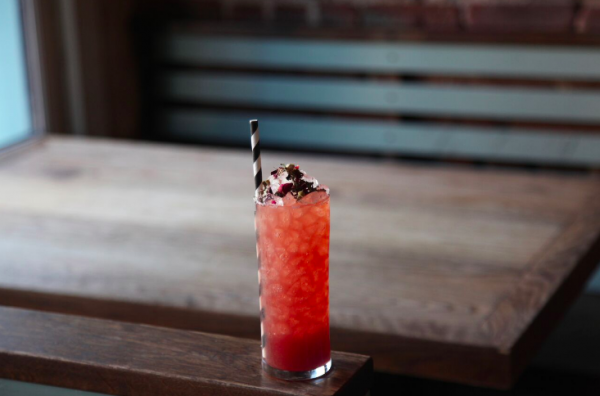 Baker's Dozen
1 ounce blackberry fig syrup (recipe follows)

half ounce Haber's Tonic Syrup (out there at

HabersTonic.com

)

three/four ounce recent lime juice

Soda water

Dried Lebanese Fashion Aphrodisiac Tea

(out there at Kalustyan's), for garnish
Mix the first three elements in a highball glass and fill with ice. Prime with soda water. Stir to mix. Garnish with a sprinkle of dried tea leaves and buds.
For the Blackberry Fig Syrup:
1 quart turbinado sugar simple syrup

13 ounces fig preserves (I exploit

Bonne Maman

model)

13 ounces blackberry preserves (I exploit Bonne Maman brand)

1 cinnamon stick, crushed

1 teaspoon entire black peppercorns

5 tablespoons white balsamic vinegar
Add all components to Vitamix blender. Mix until clean. Strain and discard pulpy solids. Store in a coated container, refrigerated, for up to one week.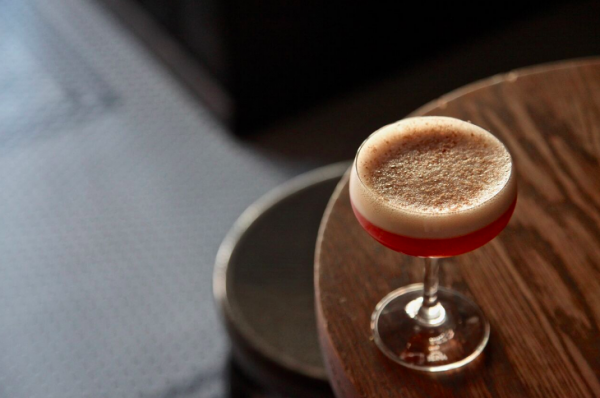 Billows & Thieves
three ounces recent grapefruit juice

1 ounce cold-brewed coffee

half ounce black cardamom-cinnamon syrup (recipe follows)

1/2 ounce recent lemon juice

pinch of smoked sea salt

Nutmeg, for garnish
Mix all components in a cocktail shaker and shake with ice. Double-strain into a relaxing cocktail glass. Garnish with a dusting of freshly ground nutmeg.
For the Black Cardamom-Cinnamon Syrup:
2 cinnamon sticks, smashed
1/2 cup water
1 cup maple syrup
three black cardamom pods, smashed
Toast cinnamon sticks over medium heat until they launch their aroma and start to crackle. Put aside. Combine water and maple syrup in a small saucepan over medium warmth. Add spices and simmer for 5 minutes. Take away from heat and let cool to room temperature. Pressure and discard solids. Refrigerate for up to one month.
Recipes courtesy of Mike Di Tota, The Bonnie, Astoria, Queens